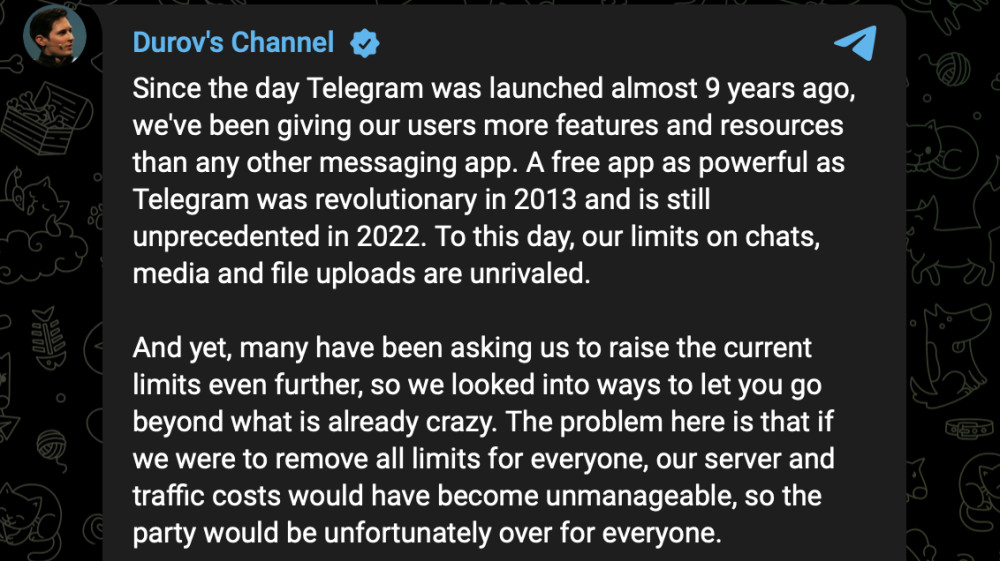 Latest
Telegram Premium is official! It will be launched later in June
Telegram Premium is officially coming this month.
"To this day, our limits on chats, media and file uploads are unrivaled. And yet, many have been asking us to raise the current limits even further, so we looked into ways to let you go beyond what is already crazy", founder Pavel Durov wrote yesterday on his Telegram channel. "The problem here is that if we were to remove all limits for everyone, our server and traffic costs would have become unmanageable. The only way to let our most demanding fans get more while keeping our existing features free is to make those raised limits a paid option. That's why this month we will introduce Telegram Premium, a subscription plan that allows anyone to acquire additional features, speed and resources".
A beta version is already available for Android. A price of $4.99 per month has been reported based on analysis of the beta app.
Some exclusive features of the new paid offer have been unveiled by Telegram Beta Info, a Telegram channel that publishes information about what's new in the beta versions of Telegram (like WABetaInfo for WhatsApp).
The benefits of Telegram Premium include a 4GB upload size, faster download speeds, no ads, unique reactions, premium stickers, animated avatars, a profile badge, and more. All existing features will remain free.
Users who don't subscribe to Telegram Premium will be able to enjoy some of its benefits. They will be able to view extra-large documents, media and stickers sent by Premium users, or tap to add Premium reactions already pinned to a message to react in the same way.